11.29.2015
Client v11.1 Released
Online Time Rewards:
Every 2 hours spent online you receive a random XP Pack
Every 24 hours spent online you receive a better reward
Skill Total Rewards:
2700(Max Stats) Total - Flashy Phat
2675 Total - Flashy Cape
2650 Total - Flashy Boots
2625 Total - Flashy Gloves
NPC Changes / Balance:
Buffed in Stats and Nerfed in Drops:
Ice Spider
Jungle Demon
Magic Demon
Black Demon
Gnome Demon
11.16.2015
Client v 11 Released
::advertise link updated
Master Certer added to Edgeville - Certs everything
Magical Pool added to Edgeville - Teleports to
Cities, Wilderness Cities, God Dungeons, 99 Skill Portals and Boss City
Requirements to enter still are the same.
You can now Mix your used potions. 2 and 1 doses make a 3 dose etc.
Added Hotkeys for Magic and Prayer
Hotkeys are F2, F3, F4, and F5 for Magic
Hotkeys are F5, F6, F7, F8 and F9 for Prayer
You can bind your keys by using the command
::f5 ID
::f5 16 would bind Tele grab to F5
Magic and Prayer IDs can now be found on the Wiki
http://rsckbd.wikia.com/wiki/Prayer , or ::prayer in game
http://rsckbd.wikia.com/wiki/Magic , or ::magic in game
f10 is now Info menu
Cleaned up Landscape and objects around the map
Added missing wilderness ladders, enabling new areas.
11.6.2015
Client 10.9 Release
New NPC:
Ranged Target.
This NPC has high attack, strength and defense, but Low Hits.
Made for Ranged XP.
Locations: Boss City, and Ranging Guild.
Ranged Guild Added
Requires 120 Ranged to enter.
There is a lever across from guthix lever.
2 Ranged Shops
3 Wine of Zamorak spawns
Rangable NPCS
Gold Dragon
Rune Dragon
2 Frost Dragons
2 Green Dragons
2 Ranged Targets
2 Mithril Dragons
Tormented Demon
Added exits to all 99 skilling portals
Zamorak and Portal room ladders fixed.
Slight nerf on armours
Combat System for PVP
New Max hit added for PVP from around 85 to around 66.
You can still hit around 85 on Monsters.
Iron Axe Sprite Fixed
Controlled Exp fixed
Kolodion now teleports you to Mage Arena for Godspells.
10.28.2015
Client 10.8 released
New Sprites for items.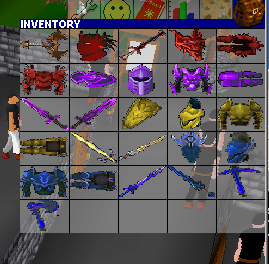 PK Token Shop
Shop accepts only PK Tokens
Price in PK Tokens.
Titanium Bar 530
Titanium Bar Cert 2650
Muddy Rogues Purse 1766
Muddy Volencia Moss 353
Dragonshark Cert 35
Muddy Death Rose Cert 14
Muddy Fools Weed Cert 35
Muddy God Lily Cert 35
Muddy Rune Poppy Cert 35
Muddy Dragon Lotus Cert 70
Magic Bones Cert 28
Kril Bones Cert 53
Twisted Log Cert 35
Uncut Onyx 70
Legendary Pk Axe 176666
10.18.2015
Client 10.7 release
Sprites for Boss XP Packs Updated.
New ongoing mini game - King of the Castle
Income: 3600 PK tokens per hour spent as King of the Castle.
Requires 10M Coins
::enterking will skull you, and teleport you to the middle of castle.
If you kill another player you get their 10m, armour and receive PK points for time spent as the king of the castle.
You cannot range or mage through the walls of the castle
There is an npc that teleports you from inside the castle to outside

Once in edgeville you can receive the PK tokens you've earned from Pk Token Exchanger

Subscription Vendor
Located in edgeville, the sub vendor accepts sub cards to make your account elite member, or to reduce a combat stat from level 60 or less, to 1.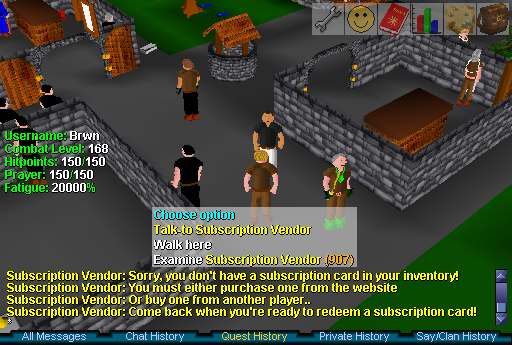 Client 10.6
Making Spears
Spearsheads are now smithable with bars
Takes 3 bars.
Spear shafts can be made with gum or twisted logs.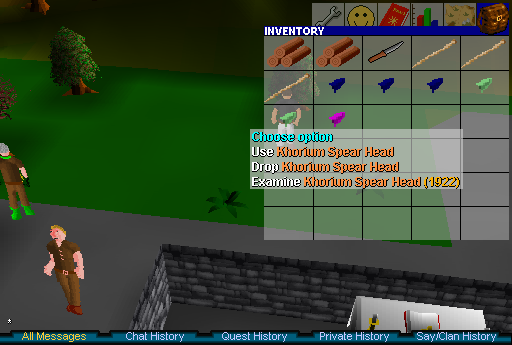 Includes new prayers
From level 40+ prayer.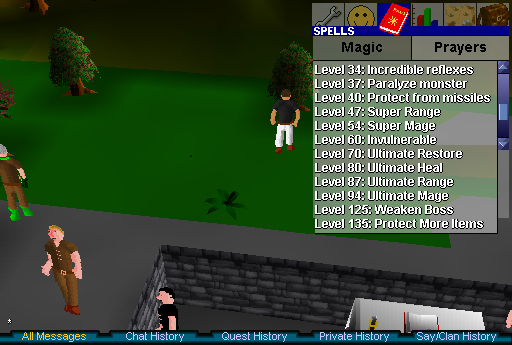 New Shop: Boss xp packs
You can't get str att def hits Xp.
10 tokens give a xp card withs give 1M xp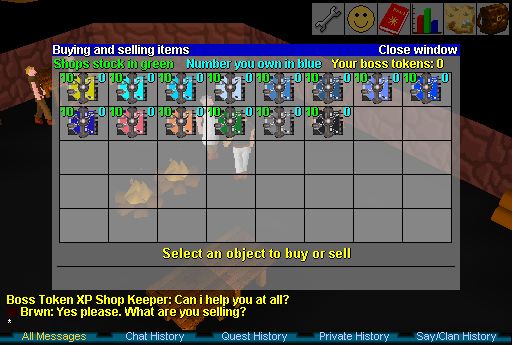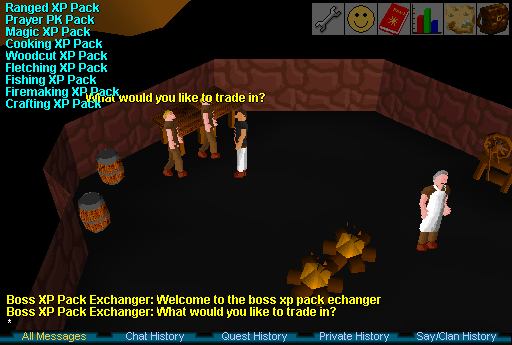 Boss amour can be bought with tokens to
Between 200-500 for 1 piece
Client 10.5
new city and island for Mega Bosses.

-Fixed ::teleport city
-Fixed ::global for all mods/staff
-Rune med armor value fixed
-Added God Token Shop
-Removed God Token Vendors
-Added 3 new Mega Bosses (Paralyze monster doesn't work):
General Graardor (lvl 7723) - 30,000 hits
Nex (lvl 5223) - 20,000 hits
Araxxor (lvl 2723) - 10,000 hits

-Added Boss Token Skill Shop Packs for Skilling Items


-Added Boss Token Armour Shop

-Added

new Boss armor

and sword (Lime Green - Can Change)
-Changed lvl 3 Dungeon lever in edge to teleport to boss city
-Added Maggie (new teleporter) in boss city
-Added Maggie on boss island
Added boss token drops for Mega Bosses
All gods now have upped Defense and Attack, no paralyze, added boss token drops
Here is a Brief Guide to the new Bosses.
In order to get to the bosses you will have to enter the dungeon underneath the graveyard in Edgeville. After doing so you will find a lever on the West wall which you pull to get into the next dungeon. Keep following the levers until you reach Boss City. (You will NEED hits level of at least 80 and prayer level of at least 60)
After entering Boss City you can explore. To the East there is a Boss Token Skill Pack Shop. This sells skill and pk packs that contain approximately half the items that you would get in the same Sub Pack. To the South you will find both a Boss Token Armour Shop as well as and Boss Token Skill Pack Certer. The armour shops sells the new Boss Armour and Sword for Boss Tokens while the Certer trades in your new packs for the corresponding certs for each pack.
All the way to the North there are two bankers and right in the middle of the city you will find Maggie who will teleport you to the Boss Island where you can find the bosses.
Currently all Boss Armour and Sword is equal in bonuses to Titanium, however this will be changed so that the Boss items give you an advantage while fighting the bosses in the near future.
WARNING: Bosses are extremely difficult to fight. Please note that they will hit you through your full Titanium armour and that you are not able to use Paralyze Monster against them. I suggest teaming up with some fellow players to try to take them on. Take turns fight the Boss while you use other accounts to range. The items in the shops are just our preliminary thoughts of what is best but the prices and items are subject to change. All bosses have the same combat stats and it is just the hits level that varies among them. If you have the time, don't be afraid to take on General Graardor.
Currently all bosses only drop Boss Tokens. The higher the level of the boss, the more tokens you have a chance to get. Start collecting your Boss Tokens as soon as you can so that you can buy whatever might be added later.
Client 10.4
Update
::mute "player" (minutes)
::unmute - fixed
Ignore system
Ignore now saves on logout
Ignore now blocks chat, ::say, PMs
Skilling Event Islands
Boss Locations
Wilderness Mining Fence
8.16.2015
Client 10.3 Released.
All Skills Batched
Added Rank Colors
Added High level Wilderness Mine, east of Dragon House
7.13.2015
Fixed Gambler (100k and 1m options now work)
Gambler NPC:
Options are 100k, 1M or 10M
Higher options are better chances.